Welcome to Silver and Dragon Wolf's Den. We have alot here for the Wiccan/Pagan Community. Please stay a while and make yourself at home. Enjoy our Den!
Blessed Be
Silver Wolf & Dragon Wolf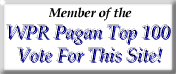 Sign our Guestbook
View our Guestbook
Get a free guestbook~~
Click to subscribe to AZ-TheGathering you will recieve a Subscribers form that is for our records ONLY. *NOTE* This list is for who live in Arizona USA.
We now have an online community where you can talk in chat and keep in touch with others in Arizona. If you would like to join, please Click Here!
---

Since September of 1998 you are person number

to visit our Den!