Ferrets

Welcome to our page of ferrets. These furry little creatures loveable, funny, sweet, and great companions to have.
Here we have some info on ferrets(soon) and links to ferret pages to get all of the info you need on these little creatures.
We have 2 ferrets, Kissy and Bandit. They are our babies and love them so. As soon as we can get them to stay still to take a picture we will have one here for you to see.
Please visit the sites we have listed. Ferrets make a great addition to the family, check these sites to see if you want one in your home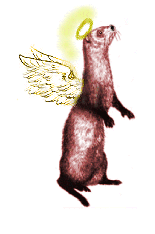 In memory of Sedona. Our little sable ferret who touched our hearts and will be missed.
September 1, 1997 to January 10, 1999
Sedona is now living under the Rainbow Bridge This is the place where our beloved furry friends go. Please take the time to visit.

I thought this was cute. These are the zodiacs of our ferrets.
This is Bandit's
This is Kissy's


Links
Ferret Central
our background, bar and home button at the bottom of the page came from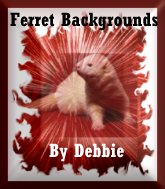 Books
Ferrets: Everything about Purchase, Care, Nutrition, Disease, Behavior, and Breeding By Chuck lynn Morton, Matthew M. Vriends, Chuck Morton.
Ferrets in Your Home By Wendy Winsted
Ferrets as a New Pet By Greg Ovechka
There are ALOT of other book on Ferrets
Search BarnesandNoble.com for Ferrets

WebRings

This page is still under construction. There will be more added here soon!
Thank you for visiting!