As late as the 1700's money, or bounties, were paid for dead wolves in Finland. In some countries poison bait is still put down for wolves. And still to this day the idea of man and the wolf being unable to share the land still exist.
Conservation groups are trying hard to change this. They are trying to help people, including the government, to understand the wolf hoping that Wolf and man could be one.
Wolves are beautiful and spiritual creatures. The wolf can be saved, if we let the wolf be saved. This page is for all the Wolf lovers and for those we are hoping can see that the "Big Bad Wolf" is Red's and the Three Pigs problem, Just a Myth.
---
This is our adopted Wolf RedSpirit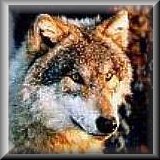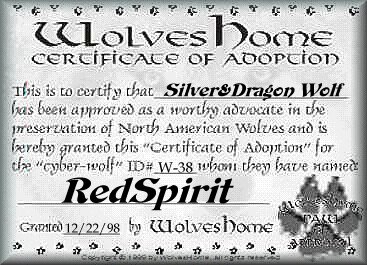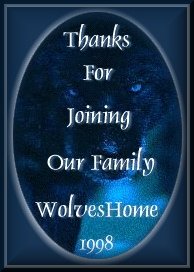 Adopt a Wolf From

---
this gift is from SheoWolf..Live with the spirit of the Wolf
---
Silver Wolf is a proud member of:
---
Wolf Organizations
---
Here are some links to pages on Wolves.
---
Back to the Den
---